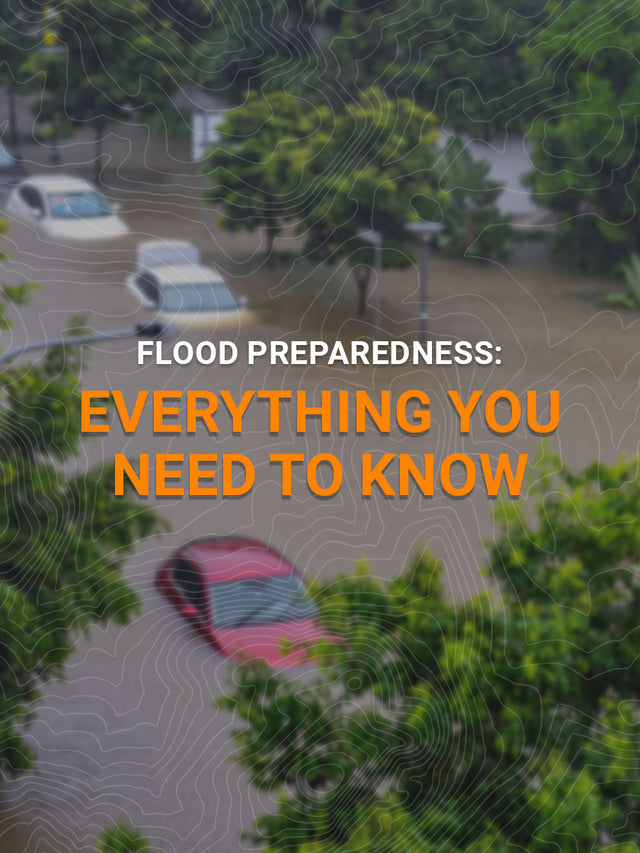 Flood Preparedness: Everything You Need to Know
Flooding, a massive overflow of water brought on by extreme weather events such as rainstorms, hurricanes, earthquakes, mudflows or snowmelt can result in annual losses of billions of dollars. Besides damage to public and community properties, it also results in individual or personal losses. According to FEMA's National Flood Insurance Program, flooding accounts for around 90% of all natural disasters in the United States (NFIP). FEMA estimates that flood damage costs $17 billion annually in the United States, or up to $25,000 for every inch of floodwater that enters a residence.
Given the expense and frequency of flooding, everyone should think about their flood preparedness strategies. Find out how to prevent damages, keep safe and stay prepared through the flood preparedness checklist.
How to Flood-Proof Your House
According to FEMA, during the next 30 years, people who live in areas with low or moderate flood risk are five times more likely to face a flood than a fire in their home. Therefore, it is a must to flood-proof your house as early as possible.
Consider performing the actions listed below, which were put together in conjunction with FEMA and the National Flood Insurance Program for flood preparedness:
Secure flood damage insurance coverage. Floods are one of the most frequent and expensive natural disasters in the US, yet many households do not have flood insurance.

Be aware of your flood threat situation. Stay tuned in to reliable sources for the latest updates.

List the household goods. Knowing what you own and keeping records of your belongings are important steps in protecting your possessions and making insurance claims.

Keep important documents safe. Make a mechanism to secure your birth certificates, passports, medical records, and other critical papers from flooding. Keep original documents and duplicates of them in a waterproof "go bag" that is easy to access.

Elevate your electrical equipment. Electrical panels, sockets, propane tanks, wiring, appliances, and heating systems are examples of utilities that need to be secured and elevated above the ground.

Waterproof basements. Install a battery-operated backup pump and have a running pump to safeguard your home's basement level in the event of a power outage. Residents and tenants can be safe during a basement flood by installing an alarm system that warns you if there is an excessive amount of water present.

Clear the gutters. Water may build up if debris gathers in gutters and downspouts. Remove any debris, plant waste, and leaves from these water drainage channels.

Make a strategic evacuation plan. When a flood occurs, especially a flash flood that moves quickly, time is of the essence. Before a flood occurs, be aware of your resources, such as higher ground and emergency alarm systems.
Basic Flood Survival Kit
If you are forced to leave your home, the flood survival kit offers the bare necessities for survival. Power, heat, and water may not be accessible after a flood, and you could require a makeshift shelter. As for the flood preparedness checklist, prepare your basic flood kits that are made in accordance with FEMA criteria and contain supplies that are set for at least 3 days. For quick and simple movement, keep all the supplies already packed.
Your flood preparedness kit can contain:
Water 

Food, including non-perishable packaged or canned food and liquids, food for newborns and the elderly, snack food, a non-electric can opener, vitamins, paper plates, and reusable plastic utensils, at least enough to last three to seven days.

Cash

Radio with additional batteries and a NOAA weather radio.

Pillows, blankets, etc.

Seasonal clothing, rain gear, and reliable shoes.

First aid kit along with prescribed medication.

Items for infants and the elderly.

Toiletries like sanitizer, wet wipes, and hygiene products.

Batteries and a flashlight.

Proper identification

A carrier, cage, leash and other necessary pet care equipment and their survival essentials like food.

Important documents should be kept in a fire and water-resistant container.
Enhance community safety by following flood preparedness
In many ways, flooding is unavoidable. Flooding is projected to continue to affect families throughout the United States due to a variety of natural factors, including intense rainfall, snowmelt, and tropical storms. But with adequate flood preparation, the number of fatalities and the financial implications of floods might be reduced.
Are you internally motivated to keep the neighborhood safe from natural disasters? Learn more about disaster management, preparedness, safety tips, basic first aid tips, emergency evacuation plans, crisis communication, psychosocial barriers to disaster management, epidemiology, biostatistics, and more, to manage local disasters and to avoid complications and stress situations during emergency situations.
How can ETA assist you during floodings?
ETA was developed as a breakthrough since there wasn't a water purifier that could be trusted to generate Extreme Filtration, particularly in a situation like flood where water courses are contaminated badly. The 'ETA Alkaline Water Filter Bottle' is a survival and emergency preparedness gear that is 'tested and trusted' to be a reliable solution for safe access to water, an absolute essential for survival in any situation. It uses the most unique and innovative Ionic Adsorption Micro Filtration (IAMF) Technology, which starts the filtration process with a straightforward but distinctive 'Sip and Squeeze' mechanism.
With the help of ETA's Extreme Filtration technology, all four forms of water contamination zones including chemical, dissolved solids, aesthetic, and radioactive materials can be removed, giving you access to the purest, cleanest, and safest consumable water with enhanced alkalinity up to pH 9.5 for up to 30 days, to remove the impurities brought on by flooding. One of the most stressful things during flood situations is having access to contaminant-free water, and it is guaranteed to be made easier with ETA's special ability in Extreme Filtration.
By filtering out any contaminants in the water and turning it into pure, safe to drink water, this portable water filter bottle makes it much easier to remain hydrated while also ensuring that the water you're consuming is ready for consumption even in an area where contamination is suspected. So, regardless of the source you have access to, ETA will help you find a solution to provide drinkable water. Include ETA in your emergency kit and spend time outlining key ways to deal with difficult circumstances skillfully and easily.
Be prepared to face any emergency situation including floods with ETA. Prepare your emergency action plans to keep yourself and your loved ones safe!