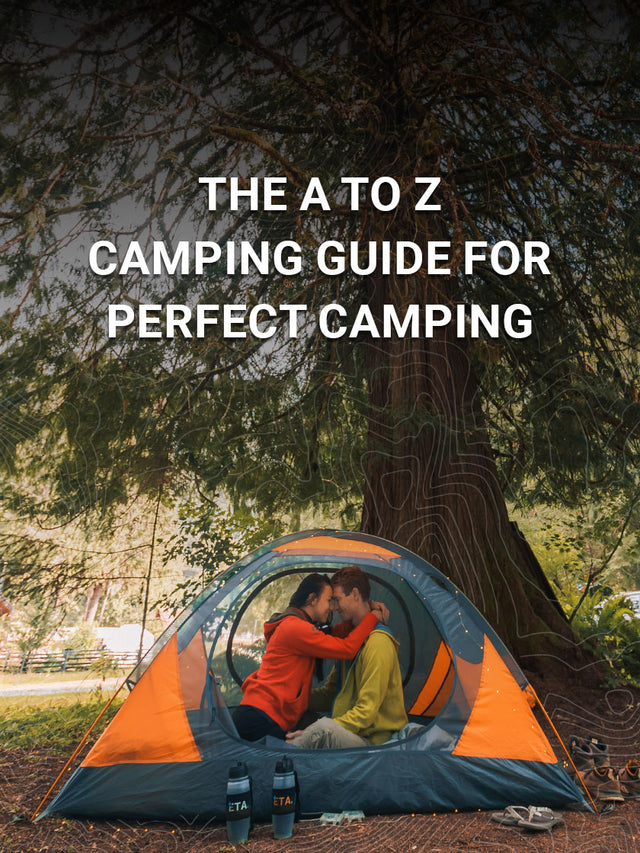 The A to Z camping guide for perfect camping
Camping is a fantastic chance to commune with nature, breathe in some fresh air, and spend time exploring nature with loved ones, friends or even by yourself. Many times it can be a way to take a break from the mundane, spend time doing what you love or even reconnect with yourself away from the hustle-bustle of a busy work life. It's lovely to walk around and feel the freshness of nature while embracing it. However, just like any other adventure, camping too comes with its own share of risks. Campers need to focus on some important factors while planning an adventure out in the wild. While most of the parts are about enjoying nature and discovering hidden sites, as a camper, you should also ensure that you are fully prepared to camp with the perfect plan to back yourself up in case of unpleasant or challenging situations.
Through this blog, our aim is to equip you with the ultimate camping guide that will help you to make sure you don't miss anything or risk anything on your next camping trip.
How to start camping?
As a beginner, how to camp comfortably and safely depends on how you choose to stay and what your requirements and preparations are for them. Therefore, before beginning, you have to consider 3 things:
Your needs: While most campers can get by with tents, not everyone can. Adults who might have trouble sleeping on the ground should look for more comfortable and cozy options. Additionally, certain tents might not be the best choice when you're camping around wild animals or small children. Therefore, you have to consider your priorities about living conditions before camping.
The weather: Tents don't have heaters or air conditioners. While you can pitch your tent in the shade or carry a battery-operated fan with you for hot weather camping, some people would rather forgo tent camping entirely. Cold weather can act as a hindrance as well. Although there are tent warmers, they may not be suitable for all settings and must be used with great caution.
Your experience: Learning how to set up a tent and making your own campsite is a great place to start if you're not sure how to get into camping. Nevertheless, some tents are trickier than others and may call for assistance or prior knowledge. Before you head out on the road, always study the tent's user handbook and watch any instructional videos. Practicing before you hit the road reduces the risk of you going wrong on site.
The Ultimate Camping Guide
Camping can be challenging for beginners and those with little expertise. Here are our top eight tips to make your first camping trip fun and stress-free.
 Selecting a campsite
For your first time camping, you will have access to a wide selection of campsites. You should check whether they are "child friendly," whether dogs are allowed, and whether there are amenities like restrooms and showers. As a beginner, it's better to reserve a campsite with accessible amenities and close proximity to a town so there are lots of options for food and supplies in case you run out.
      2.  The tent
There are many different types and sizes of tents, so it's crucial to pick the one that's best for you. It's better to select a tent that is one or two sizes larger than the number of occupants. This will give you room to store your belongings inside the tent and have a cozy place to sleep.
     3.  A sleeping bag
Bring a sleeping bag if you go camping at nighttime as low temperatures can occur. Consider the season and temperature rating when selecting a sleeping bag to make sure it will keep you at the ideal temperature for the time of year you choose to camp.
      4.  Get used to pitching your tent
Have a practice tent setup at home before your first camping trip. This is one of the most crucial pieces of advice. This will guarantee that you understand how to set up and take down the tent, and that any issues can be resolved at home rather than on the campground!
     5. Create a training camp
Why not set up a practice camp after you've practiced pitching your tent? Beginners may find camping intimidating, but spending a night in the yard will help you determine how many layers you'll need to wear and whether your kit is sufficient. Although this might only be half as accurate as the conditions may be drastically different on a real campsite, it is better than not being prepared at all.
     6. Organizing the campsite
Try to pitch your tent where the ground is level and free of any obstructions that could harm your tent as you're setting it up. Always position the tent's back toward the wind for added stability, and drive your stakes into the ground at a 45-degree angle.
     7.  Create a list of camping necessities
Beginners may find camping difficult, especially if they are unsure of the necessary equipment. Make your own checklist and refer to our guide to camping equipment for assistance to make sure nothing is forgotten. This includes your meals, water, medications, sanitary items etc.
     8 . Prepare your meals in advance
A beginner can save a ton of time and trouble by planning their meals and their cooking methods. In case things don't go according to plan, check the camping laws to see if campfires are permitted, and do some research on the neighborhood to find any bars or restaurants where you can dine.
Why do you need to pay more closer attention to water during camping?
Just imagine you're out camping in the wild and you've run out of water. The only place to get a drink to hydrate is a still stream. You might be on a camping site where the general safety recommendation is to avoid any water that isn't filtered and bottled. What would you do at such a time? Here's where you need a portable water filter bottle for easy consumption during outdoor adventures. Having a filter bottle is quick, easy, safe, and always at your side. Besides, consuming water from a water filter bottle is cost-effective and environmentally sustainable too as you end up avoiding all the waste due to plastic bottles. And in addition, it reduces all the hassle-free work of carrying heavy duty water storage can without causing any interruption to your requirements for consumption.
Why ETA?
The removal of contaminants like heavy metals, and other fecal contaminants from water is not possible with all water filter bottles. You are making a wiser decision by selecting ETA!
The ground-breaking ETA Alkaline Water Filter Bottle uses extraordinary IAMF Technology to filter out radioactive elements as well as the other three types of water contamination zones, making it the most extensively tested and relied-upon water filter bottle available. Additionally, it filters water while preserving the essential minerals and quickly alkalizes water to a pH of 9.5 with a 30-day shelf life. Can you picture having a filter-equipped water bottle with all of these features? With ETA, it is feasible! And you are safe in the camping site.
If done correctly, camping may be thrilling and memorable for first-timers. Your first camping trip will be a success if you create a plan for yourself, ensure you are prepared with the right kind of plan and equipment to execute it. With this camping guide you can be fully prepared for the next camping adventure. 
Enjoy safe and interesting adventures with ETA by your side. Happy camping!