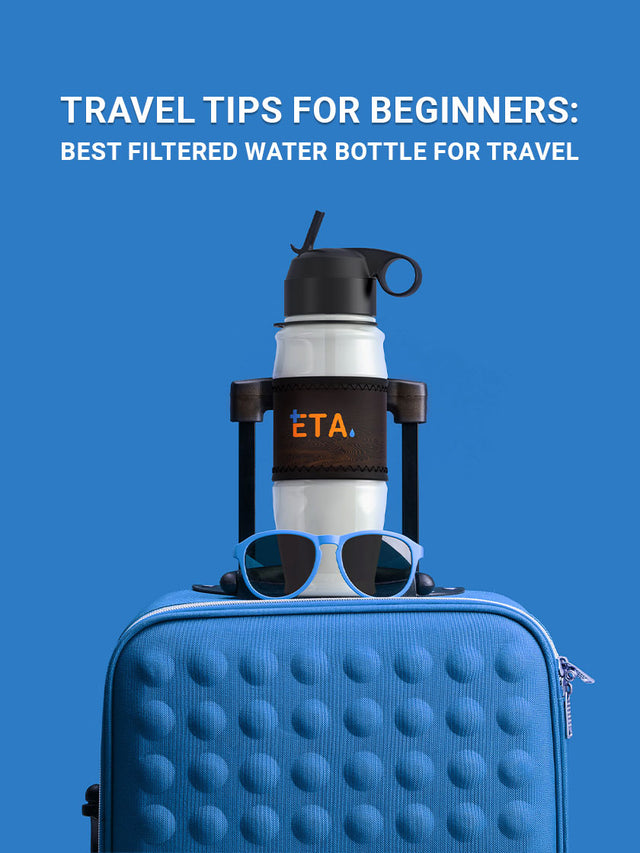 Travel Tips For Beginners: Best Filtered Water Bottle For Travel
Traveling is best done when you've planned for it, especially if you're traveling outside your known regions. While every journey is certain to have its fair share of challenges and unusual situations, most people aren't comfortable managing them. It is a quality that can only be acquired with eventual and gradual on-the-road experiences. You make a lot of travel errors in the beginning—missed flights, missed buses, wrong stops, cultural ignorance amongst many others but each one uniquely contributes to the development of a seasoned, savvy traveler in the long run. Then, one day, you start navigating airports with ease and assimilating into different cultures like a fish in water.
In general, something to remember while traveling is that water and food are essentials whether you're going on a trip, an expedition, an adventure, simply exploring a new place or traveling for work. Therefore, you need to have a proper plan and be equipped with essential tips to travel easily and safely, while making your trip a pleasant experience.
Here are our top 11 recommendations to make your upcoming trip successful, in addition to the obvious planning elements like booking hotels and finding restaurants.
Importance tips to travel
1.  Carry out research
Discover as much as you can about your destination before you go. For information on the safe areas, accommodation, and crime statistics, read reviews written by other travelers and speak with the locals. For country specific updates, visit the State Department's website. Knowing who to call in an emergency is a crucial travel security measure. Obtain the phone numbers for the police department, emergency services, and nearest embassy or consulate.
 2. Don't grab attention.
Try to blend in as much as you can because criminals target people who appear to be from out of town. Stay calm so that you won't stand out and draw attention. When studying maps, exercise discretion, and use caution when approaching individuals to ask for directions. Additionally, think about making an investment in protective clothes and equipment that will make it more difficult for pickpockets to steal cash and other valuables from you.
     3. Create copies of important documents.
A copy of your passport, driver's license, or other form of identification may be required at any time. Print numerous hard copies of these documents after scanning them to store online. In this manner, if you need to return home, you won't have to rush to find the right papers.
4. Carry the best filtered water bottle for travel and backup food.
While the whole idea of travel is to experience the culture through local cuisines and other experiences, your body can sometimes react due to a sudden change of food and water. It is possible that water in a certain region doesn't suit your system. You have to beware of what you drink during travel. With a portable water filter bottle you can filter out contaminants anywhere during your journey no matter the water source. And, by carrying back up food items you are familiar with and your system is used to, you can prevent your body from going into a state of shock and reacting adversely.
 5. Update your family and friends.
Whether you're taking a quick overnight trip or an extended international holiday, it's always a good idea to let friends or relatives back home know where you'll be. Send a copy of your itinerary to a few people you can count on to keep track of your whereabouts before you depart. Make sure your contacts are aware of your whereabouts by checking in with them frequently.
 6. Protect your hotel room.
You can make efforts to make your room safer even if your hotel has robust security systems in place. Keep your windows closed, lock the door, and deadbolt it. A portable gadget known as a jammer that fits under the door for additional security can be purchased. Even while you are away, make an effort to give the idea that you are in your room by closing the blinds and windows and posting a sign that reads "Do Not Disturb" on the outside of your door. Even if they claim to be from the hotel, never let a stranger enter your room. To find out if someone was sent to your room on hotel staff orders, you can always call the front desk.
 7. Observe your surroundings.
When trying to capture the ideal image for your social media platforms, don't let your guard down. Always keep a watch on your personal items, and use caution while approaching strangers. Meeting new people and learning about their cultures is a large part of what makes traveling so enjoyable. However, if someone close to you is behaving strangely or if you feel uneasy, leave the location right away.
 8. Keep an eye out for free WiFi
Don't let the ease of access to the Internet impair your judgment. Hackers wanting to steal vital information can access your data when you use public Wi-Fi, including credit card or Social Security numbers. Establishing a virtual private network (VPN) can enable you to browse the Internet safely when traveling if you do require wireless Internet connectivity.
 9. Stock up on medications
Along with clothing and other necessary items, pack your medications as well. These aren't always simple to locate, particularly in developing nations. Bring an emergency antibiotic like ciprofloxacin just in case you're prone to illness.
 10. Examine the travel cautions and warnings
Even while they aren't always a cause for concern, it's usually a good idea to check before making a reservation. If you decide to cancel, this could spare you hours of regret and a lot of money. Consider registering your travel in case of emergency if you wish to be on the safe side.
 11. Prepare properly
Be sure to pack wisely. Pack a pair of slip-on shoes if you are going somewhere, where you will be taking your shoes off frequently. Consider the cultural and legal laws in the region you're traveling to; many nations have advisory about the preferred type of clothing. At the same time, travel light. Nothing is worse than trying to find your hotel in the city while dragging around two bags. This will come in handy for you in a variety of circumstances, particularly if you want to visit several different destinations.
10 essential travel items that you will need for your next trip!
Documents - Passport, visa, tickets for airline, boat, train, bus

Copies of personal identification documents

Travel aids, suitcases, and backpack

Water filter bottle and backup food and dry snacks

Money (Cash)

Cellphone and charger

Clothes according to the season and the regional advisory

Toiletries

Basic first aid and medication
Why is the best filtered water bottle for travel an essential?
More good than you would realize might come from having access to clean drinking water when you're traveling. Safe hydration is attainable whenever and wherever you need it with a portable water filtration bottle like ETA. The best filtered water bottle for travel can filter out metals, bacteria, viruses, and other impurities in addition to waste. Often, while traveling, you're unknown to the local water sources. You never know what kind of problem or emergency you might run into when you're out traveling. A survival equipment or gear like a portable water filter like the ETA Alkaline Water Filter Bottle can be quite useful to have you covered up. While on business trips, you can be drinking water from a variety of unreliable sources like taps, or from rivers and creeks during adventures, but by bringing your own portable water filter bottle, like ETA, you can transform any water into the purest kind there is!
You have it now—a one stop shop to know everything you need to before your next trip. With these tips, you'll quickly become one fine traveler, pro at holidaying or taking thrilling adventure trips. Do you have a tip we missed? Leave us your recommendations!