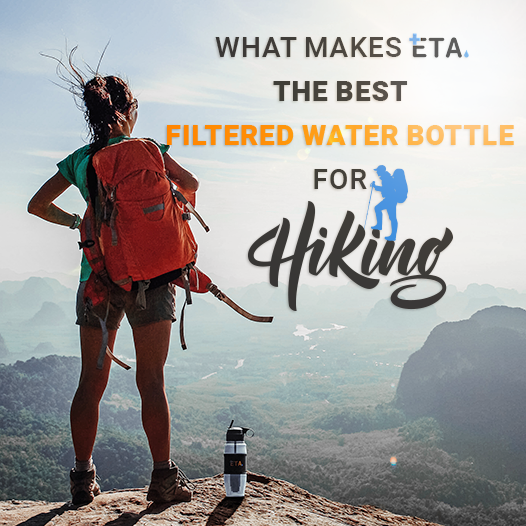 What makes ETA the best filtered water bottle for hiking
After you had a great time outdoors during your previous hike or camping session, we know the adventure seeker in you is already planning the next experience to tick off the bucket list. Over the time you have spent experiencing the diversity of outdoors and different landscapes, we are sure you have learnt the importance of keeping yourself prepared for any situation, circumstance or emergency. Every adventurer, whether a seasoned one or a beginner, knows the importance of covering themself for food, water, basic survival supplies, and other essentials. They are an absolute must-have every time you set out to explore the wilderness.

We cannot stress enough on the importance of hydration to keep yourself geared and fit to keep going through the adventure you have set out to explore. It is just not practical to carry several bottles of water because you never know how much you might actually require. It is also advisable to travel light when on an outdoor expedition, making carrying bottles of tap water or mineral water along with you that much more tedious. If you are seeking a solution for your outdoor explorations, picking the best filtered water bottle for hiking, camping or other adventures on your list might just be ideal.
Why you should carry a water filter bottle
Imagine. You're out hiking in the wild. You've run out of water. The only place to get a drink to hydrate is a still stream. You might be on a hiking trip in one of the countries where the general safety recommendation is to avoid any water that isn't filtered and bottled. What would you do at such a time? Here's where your trusty water filter bottle can come handy. A portable water filter bottle like ETA Alkaline Water Filter Bottle has just what you need for easy consumption during outdoor adventures. No matter your water source, with its purification and 'Extreme Filtration' system, powered by the IAMF technology, you are also able to keep conditions like diarrhea, vomiting, and stomach pain, due to contaminated water, at bay. It is quick, easy, safe, and always at your side. Besides, consuming water from a water filter bottle is cost-effective and environmentally sustainable too as you end up avoiding all the waste due to plastic bottles.
It is so important to select a water filtration bottle with the best filtration system that is going to have your back when it is the only gear you can rely on for an absolute essential like water. Not only does it need to be reliable but also easy and practical. ETA Alkaline Water Filter Bottle not only removes odor, dissolved solids, and other contaminations but is also extremely easy to use with its simple 'Sip & Squeeze' mechanism that activates the filtration process. It's literally that easy to uninvite the water-borne pathogens and all sorts of other contaminants that are out to gatecrash your hiking adventure.
ETA is also eco-friendly
There have been several reports about how plastic is pretty bad for nature and for the animals and has been a cause for their decline in their natural habitat. These single-use plastic bottles may be readily replaced, protecting the environment from the pollution they generate using a portable water filtration bottle. With one single personal water purifier bottle that is reusable and recyclable, you can avoid all the extra plastic water bottles that will end up clogging the landfills.
While it may look like a small step, when many of us decide to make the switch, it is sure to make a difference. All it requires is to simply change how you consume water while hiking. Since they don't damage the environment, a water filter bottle like ETA is ideal to travel with for years to come. Your ETA Alkaline Water Filter Bottle is a great way to conveniently access clean, safe water that tastes better than bottled water, while making it a sustainable solution.
Scores big on portability
The ideal travel filter water bottle should fit easily in your hand, backpack, and just largely be less bulky, making it super convenient to carry along. It goes without saying: the bigger it is, the heavier it gets. But also, the bigger it is, the less you have to refill it. It really depends on your type, whether you are going to carry a lot or not but having a good balance of size and being lightweight is a big win! With the perfect to-go size, being able to hold 28 liquid ounces of water at any given time, ETA scores big on portability. Its shape also lends itself to the ease of grabbing and carrying while you enjoy sipping and squeezing fresh water anywhere.
What makes ETA the best filtered water bottle for hiking?
We cannot stress enough on why you should seek for a system that combines filtration and purification to ensure that you have access to the cleanest drinking water possible during your time outdoors. Not all water filtration bottles are able to remove bacteria, viruses, heavy metals, or other fecal contaminations in water. By picking ETA, you're making a wiser choice!
The revolutionary ETA Alkaline Water Filter Bottle uses the latest IAMF technology which acts on all 4 types of water contamination zones, including radiological elements, ultimately making it the World's Most Tested and Trusted Water Filter Bottle of its kind. Moreover, it retains the trace minerals during the filtration process and also instantly alkalizes water up to pH 9.5 with a 30-day shelf life. Can you imagine having a water bottle with a filter that contains all of these functions? It is made possible with ETA!
Pack up with ETA
When you take your ETA along for your hikes and camps, you are saving money, protecting the environment by avoiding the use of plastic water bottles, and staying healthy and hydrated throughout your journey. When hiking, drinking water won't cause you much tension or discomfort, and you won't need to worry much about where it came from either. Therefore, setting yourself up with the best filtered water bottle for hiking or for any other outdoor adventure is the easiest and safest way to stay hydrated while enjoying the thrills and the adrenaline.
Count on the ETA Alkaline Water Filter Bottle to be your best partner to enjoy adventures risk-free!