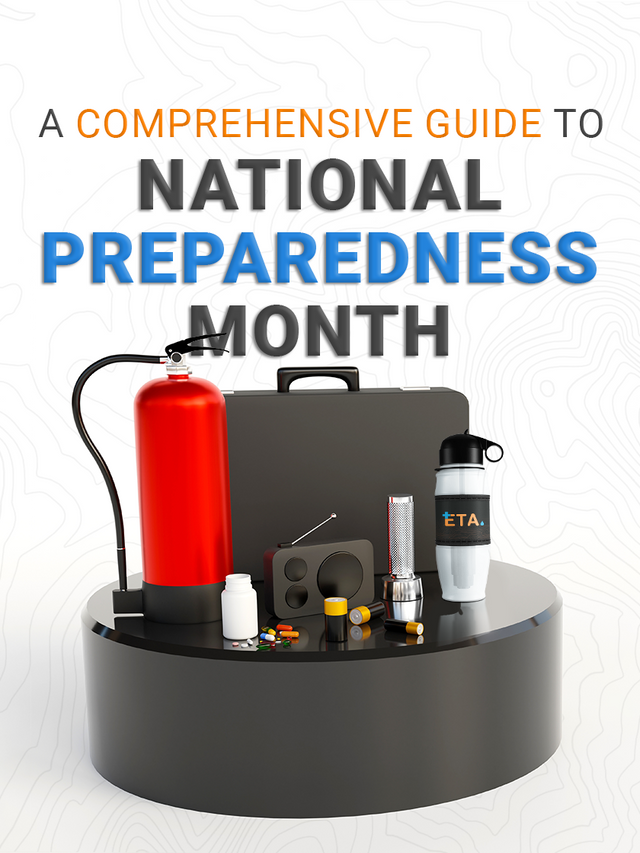 A Comprehensive Guide to National Preparedness Month
Being prepared is a never-ending topic. Given the changing times, emergency preparedness is becoming a way of life. Unless you are prepared, you will not be ready to face the situation arising out of naturally-occurring or manmade disasters. Every year, September is regarded as National Disaster Preparedness Month in the U.S. Let's spend some time learning about its importance for your safety as well as the safety of your friends and family.
What is National Disaster Preparedness Month?
A month-long campaign, National Disaster Preparedness Month encourages citizens to be ready for any disaster, whether it is natural or man-made, that might affect them, their homes, towns, or workplaces. By educating all citizens—young and old—about emergency preparedness, this month aims to minimize the effects of major emergencies on people and communities.
"A safe and resilient nation with the capabilities required throughout the entire community to avoid, protect against, mitigate, respond to, and recover from the threats and hazards that pose the greatest risk" is the stated goal of national preparedness month.
What is preparedness for emergencies?
The phrase describes the safety measures you take before, during, and after an emergency or a natural disaster. To achieve accreditation requirements, preparedness should not be a seasonal concern. We must maintain this attitude constantly. The goal of emergency planning is to reduce the likelihood of severe life disruptions and to respond swiftly when they do take place.
It's essential that you start planning right away, regardless of whether you're worried about an unexpected layoff, natural disasters like floods, earthquakes, or landslides, home invasions, car accidents, a week without electricity, nuclear disaster, war, or long-term economic and societal collapse.
The history of national disaster preparedness month
The Federal Emergency Management Agency (FEMA) started it in 2004 to emphasize the value of being ready for major emergencies. The U.S. Government chose September because it emphasized the value of individual survival actions in the wake of the 9/11 attacks in 2001.
You need to be aware of the potential consequences of disasters on you and your house to help prepare for a crisis. For instance, you must identify evacuation routes and the items you must evacuate from your home in the event of a forest fire, whereas hurricanes can break windows and hurl flying glass throughout your home. The effectiveness of prevention strategies, like blocking windows and eliminating fire threats from your home, depends on how you handle the crisis and the steps you take in the wake of it.
A Lasting Legacy: Why do we need to observe this?
Every September, National Preparedness Month is observed to promote awareness of the value of being ready for crises and disasters that may occur at any time with a theme that establishes a connection. "A Lasting Legacy: The life you've built is worth keeping" is the theme for 2022. To leave your family with a lasting legacy, be disaster ready.
For people to have the necessary supplies, know where to go, and know how to stay safe in an emergency, preparation before an occurrence is essential.
What to practice this month
 Prepare for every situation
Every individual should be prepared because natural disasters are becoming more frequent every year. To find out more about ways to lessen threats to life and property in the event of any big disaster, visit government websites like Ready.gov, the National Oceanic and Atmospheric Administration, and the Centers for Disease Control and Prevention.
 Run fictitious safety drills
Build a disaster kit with all the necessities—water, food, medicines, and other survival essentials, create and practice a safety plan with your family, especially with your kids, and test it out. You may have a higher chance of surviving with few losses if you do this.
 Encourage community readiness
We are confident that you can become involved in a variety of ways if you look around long before a tragedy occurs. To better understand how your skills might be put to use, consider volunteering at the Red Cross, for your neighborhood watch, at the local fire station, or even at the Citizen Corps.
 Stay ahead with awareness and information 
Always be sure to keep yourselves updated with the news. Information on epidemics, pandemics, or occurrences around you is extremely important. It is also essential for safety and preparedness to have a good understanding of our location and geography to know if you live in an area that is prone to a certain kind of disaster that occurs in intervals. Another aspect of preparedness is to keep yourself educated and make a plan of action even while you travel. It's a wise idea to always be aware and prepared to tackle situations in a new location.
Preparedness with ETA
ETA's philosophy is deep-rooted in keeping you prepared for emergencies and disasters with an absolute essential for survival—water. Often, during emergencies, water can easily run scarce, become contaminated or you might just face difficulties in finding access to consumable water. ETA's Extreme Filtration capability allows for the elimination of all four types of water contamination, including chemical, dissolved solids, aesthetic, and radioactive materials, and as a result, provides you with clean and safe water with boosted alkalinity up to pH of 9.5 that lasts up to 30 days. So, no matter which source you have access to, you can find your way to produce drinkable water with ETA.
With this portable water filter bottle, you can filter out any polluted water and transform it into pure, safe-to-drink water, staying hydrated during emergencies without requiring to store gallons or make steep arrangements.
Even though we all understand how crucial it is to be ready for emergencies, getting ready can be frightening or often challenged by a lack of awareness. The situation is made worse by the abundance of minority items that taint sensible readiness with radicalism, dangerous material, or pointless internet discussions. But if you examine closely at each thing, you'll discover which ones are the greatest and most essential. 
Add ETA to your preparedness kit and invest time in charting out important strategies to face adverse situations with ease and smartness. Get prepared with ETA this National Preparedness Month!