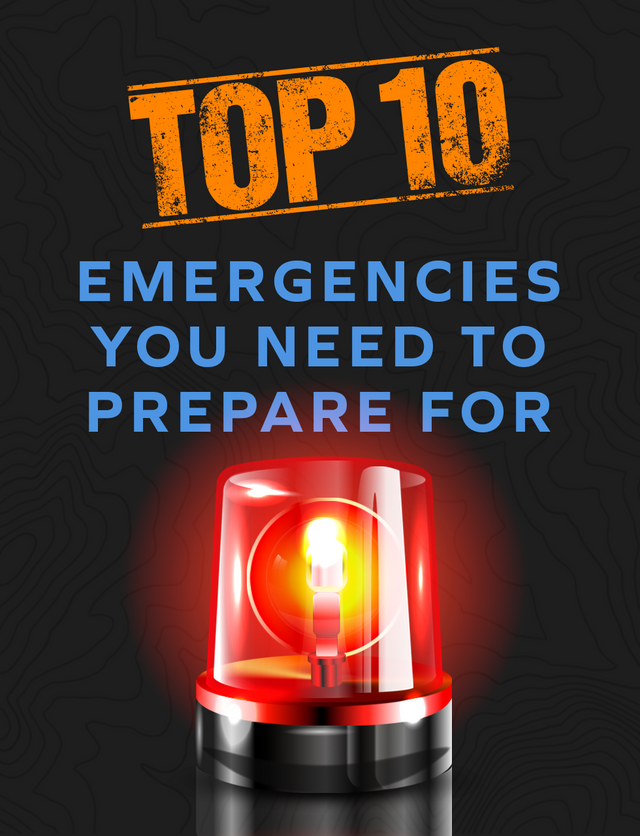 TOP 10 EMERGENCIES YOU NEED TO BE PREPARED FOR
We all face emergencies in our lives. Some emergencies are more serious than others, but all emergencies are manageable with the right kind of preparedness. The most effective way to handle any such serious emergency is to first be prepared for it before it strikes. Here, we bring you information about the top emergencies in the US to have on your radar for preparation.
Some of these top emergencies are most likely to occur, while others are less likely to happen yet more devastating and thus require special attention. No matter the emergency, one thing is for sure, by taking time and preparing for an emergency beforehand, you will feel confident, empowered, and ready to take control of the situation in front of you. Here we bring you complete insight and understanding of the top 10 emergencies you will face. By the end of this article, you will be fully prepared to face any emergencies in the future.
10. Blackout/power cut
Electricity is a necessity in today's world. Loss of power would mean limited access to a whole lot of services including food, water, money, and gasoline. What you do to prepare for any other emergency is necessary for this emergency as well. Are you thinking about a first aid kit? Well, that is definitely not enough. You need to have an emergency bag that contains extra food supplies, an ETA water bottle for easy access to safe drinking water anywhere, anytime, and reserves of your medication and finances.
9. Car breakdown / stranded in the middle of nowhere
Admittedly, this does not seem like an emergency at all. You might think it's an easy task to change a flat tire, but will it be that simple if you are traveling along a dark, unfamiliar road late at night? Will you be fine if your car becomes incapacitated and you are left there with no flashlights, no tools, and no plan of action?
Fortunately, if you have planned for such a minor but top emergency, then you are ready to take it on. Pack yourself with extra snacks, external batteries, a blanket, and most importantly 'The ETA Alkalizing portable water filter bottle' for safe drinking.
8. Medical emergency
When a medical emergency strikes, people are very quick to help each other out. How do you prepare yourself for a medical emergency? Having a complete first aid kit is key. A fully set up first aid kit should include first aid items and an ETA water bottle. Water is necessary to keep your internal hydration level, blood pressure, and internal functions running smoothly. Another way to be prepared for a medical emergency is through getting CPR training.
7. Accident
Knowing what to do during an accident is essential to manage such an occurrence. Are you confused about how water comes into play here? It's no secret that you need water to keep yourself calm. Drinking water is essential to keep yourself up, but during an accident, it is unlikely to find drinkable water. So, when you have a backup ETA alkalizing portable water filter bottle, it means you are ready to face anything that is beyond likely to happen.
6. Fire
A fire is one of the most frightening emergencies to contemplate. Fire acts as something that has its own life. One other thing about a fire is that the smoke of a fire can kill a person quicker than the flames. The best way to prepare for a fire is to have smoke detectors throughout your house. However, if the fire strikes out of the blue, it's best you have an emergency bag packed. This bag should have money, proper documentation, clothes, and an ETA bottle for safe drinking.
5. Flood
Water and flood go hand in hand. But can you drink floodwater? A flood is a type of emergency that creeps up on anyone. You simply keep watching the weather and gauge how extensive the rainfall will be, and before you know it, things tend to go out of control. The next thing you know is that you are on a lifeboat sailing over rooves knowing you got nothing of your own, not even drinking water! But if you have a flood emergency kit packed with essentials, clothes, and an ETA alkalizing portable water filter bottle, you have things to hold onto. Make sure to keep your emergency flood kit extremely light.
4. Earthquake
An earthquake is a sudden but powerful event. If you live in an earthquake-prone area, then you should really know what you have to and have not to do during an earthquake. You should have extra money, medications, and an ETA water bottle on hand with emergency supplies as it's most likely to have a disruption in services after the earthquake.
3. Storms, hurricanes/snow
Mother nature has forces that are sometimes life-threatening and devastating. Storms, hurricanes, and blizzards are forces that can overwhelm even the most prepared person. As soon as you receive the evacuation notice, you should evacuate. Prepare your weather emergency bag. Grab some food, your ETA bottle, extra clothes, medicine, and all the necessary items and run. Weather hazards are stronger than they seem. It's best to prepare for any weather emergency beforehand since, in the worst case, weather emergencies continue longer than months.
2. Terrorist event
It's difficult to prepare for terrorism due to its multifaceted and constantly changing nature. Certainly being aware of your surroundings is important for being prepared. However, is it enough to combat a terrorist emergency? No! Create a family emergency plan. Plan your evacuation routine and pack things for that. Preparing for terrorism is important since the world is changing, politics transform daily, countries fight, and people sometimes see positives in terrorism.
1. Infectious disease outbreak
You might think that infectious disease outbreak preparation does not require an ETA water bottle. Well, all of them do! Have you watched the latest hit drama 'All Of Us Are Dead'? Well, a zombie apocalypse seems hardly possible but that doesn't mean it will not happen. We don't ask you to prepare for a zombie apocalypse but the recent COVID-19 outbreak is a good example of why you need to prepare for an infectious disease outbreak. Moreover, the outbreak of Ebola in West Africa, the Black Fungus outbreak in India, the Yellow fever epidemic in Nigeria, etc. are infectious disease outbreaks recorded in the past five years. Now you know you need an ETA water bottle, don't you?
While this list does not cover all the emergencies you will encounter, it will give you a good view to keep yourself well-prepared for a few of the top emergencies. Emergency preparedness is the first step on the path to reducing the fear and anxiety of an emergency. Follow this list, prepare your emergency bag, and equip yourself with an ETA alkalizing portable water filter bottle - now you are fully geared to handle any emergency situation!