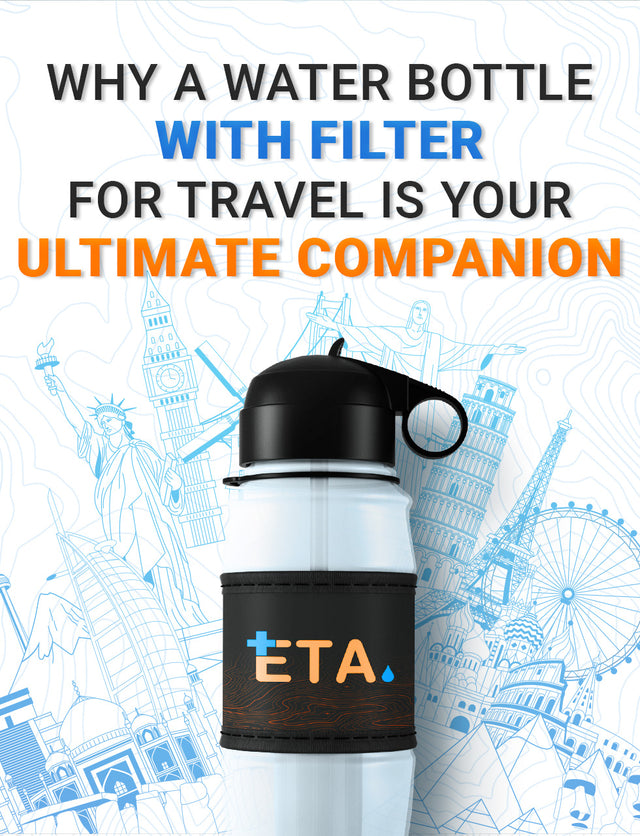 Why a water bottle with filter for travel is your ultimate companion
Water filtration and purification at home is quite common. You may already know about the various solutions and probably even use some. But, how about water purification and filtration when you travel? What about access to purified and filtered water when you're on the go? We're sure these questions would have occurred to you if you travel often. Have you heard about a water bottle with filter for travel? Read on to know why it could be your ultimate travel companion.
Water is always one of the main concerns for anyone who enjoys traveling for leisure or needs to travel often for work, business or other purposes. You can never be sure how much water you will need. Therefore, it is not practical to pack plastic water bottles into your bags and handbags hoping that it would be enough. Also, the composition of water changes from region to region, and from source to source. If you're using tap water, you can also never be sure of how safe it is. This is where a portable water filter bottle comes into action. It's not just a travel gear, but an investment of a lifetime.
What makes a water bottle with filter for travel an essential?
Whether you're going on a trip, an excursion, an adventure, just exploring somewhere new, or traveling for work, water and food are indispensable necessities. Now, when it comes to water, due to the change of its source, especially if you have a sensitive stomach, you could be instantly prone to conditions like diarrhea, vomiting, and stomach pain. In certain cases, questionable water can lead to way more serious illnesses. 

When you are away from home or overseas and without access to convenient medical care, treating these symptoms might be challenging…and also very expensive! This is where a water bottle with filter for travel can be that one trusty friend you can bank on to keep the avoidable illnesses at bay. You can stay hydrated and safe, even when traveling to a location without access to clean drinking water by using a water filter bottle.
Not every water source is trustworthy
You might still have access to treated tap water or even bottled water when you're staying in a hotel or meeting for work in cafes, restaurants or office environments, but it is almost impossible to know exactly where your water is coming from or what it is composed of when you're going camping or trekking during your travels. Knowing if the water has been treated and whether it is safe to use for cooking, drinking, brushing your teeth, and other activities is far more important that you think. Ingestion or consumption of contaminated water can have long-term or short-term effects which can not only affect the purpose of your travel but your health at large.
Often water that appears clean might be concealing contaminants not visible to the naked eye. Hence, it is important for you to know your source. And if you know your source, to be able to trust it. If you have a water bottle with filter for travel like ETA Alkaline Water Filter Bottle, you can be sure every single time that the water you're consuming is clean and drinkable, without having to worry about the consequences.
Why is a travel-friendly water filtration bottle a necessity?
Having access to clean drinking water while traveling can do you more good than you can imagine! With a portable water filter bottle like ETA, safe hydration can be made possible anytime, anywhere. A water filter bottle is not only limited to eliminating waste but also filters out metals, germs, viruses, and other contaminants. When you're out for your adventures, you never know what kind of situation or emergency you could find yourself amidst. A portable water filter like ETA Alkaline Water Filter Bottle can definitely come in handy as a survival gear. You could be drinking water from rivers and creeks during your adventure travel or from various non-reliable sources during business trips but by carrying your own portable water filter bottle like ETA, you can turn any water into the most purified kind there is!
An effective answer to plastic pollution
A true traveler enjoys exploring nature's beauty at its best! It's almost incorrect to call yourself a true nature lover or an outdoor enthusiast without love for the Earth and determination to protect it. We are all becoming more and more aware of our planetary footprints and it's safe to assume that most individuals are now considering methods to live in a more environmentally responsible manner. We must take action because the harm that single-use plastics, used to package water, are causing to our seas has reached unimaginable heights.
With a portable water filter bottle like ETA, these single-use plastic bottles can be easily replaced, saving the environment from pollution they cause. By simply replacing how you consume your water during your travels, you can make a difference and do your bit to protect the environment we live in. Thus, these water filter bottles are an excellent method to easily obtain clean, safe water that feels better than bottled water without harming the environment, making them your perfect travel companion for years to come.
Why is ETA Alkaline Water Filter Bottle the best?
To guarantee that you have access to the cleanest drinking water, you should look for a system that employs a combination of filtration and purification. This is where ETA comes to the rescue! The groundbreaking invention "ETA Alkaline Water Filter Bottle," is outfitted with the latest IAMF technology. The device's revolutionary "Sip & Squeeze" mechanism turns on the ability to perform its EXTREME FILTRATION process that eliminates ALL 4 types of water contamination zones which include radiological elements, and ultimately becoming the best water filter bottle in the world. The exclusive IAMF technology also creates instant alkalized water with a pH of 9.5 that can last for up to 30 days. Can you imagine all this goodness in a single water bottle with filter for travel? ETA makes it possible!
Get your ETA
Carrying a filtered water bottle or utilizing a water bottle filter while you're out and about has multiple benefits like saving money, protecting the environment by eliminating the requirement of plastic water bottles, and keeping you safe and hydrated. You will be stress-free and satisfied with the water you drink when traveling and have very little to worry about its source too! Therefore, the best and the safest option to stay hydrated while on the go is a water bottle with filter for travel. Trust ETA Alkaline Water Filter Bottle to be your ultimate companion to travel safely with!